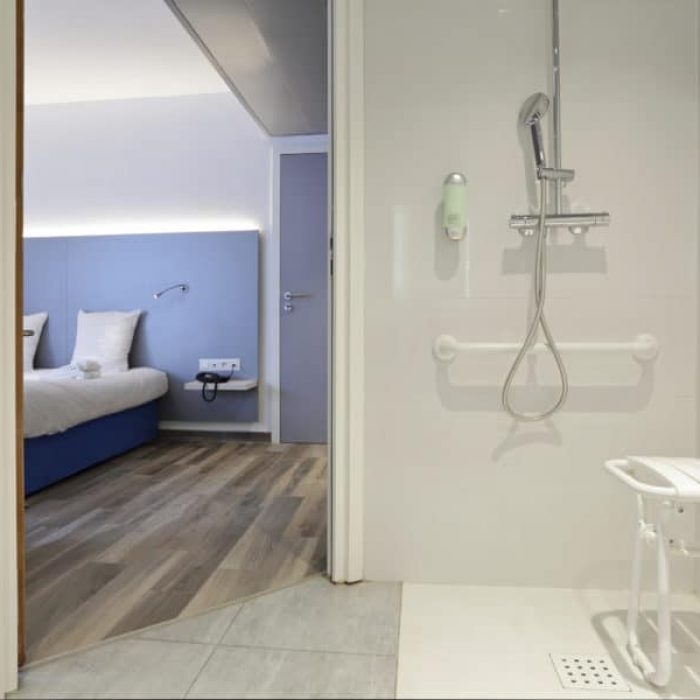 Aging In Place Remodelers
How to Help Aging Parents Stay in Their Home
Many elderly fear they will need to leave their current home when aging or other health issues limit their mobility. Often that is not the case. With the right modifications, you or your parent's current home can often become both comfortable and accessible. Clear Choice Construction has helped many individuals and couples stay in their home and neighborhood by performing a handicap accessible remodel.
What to Include in Aging-in-Place Home Plans
How much remodeling is required to help your aging parents stay in their home? The answer to that question depends on two factors: the existing layout and limitations of the home, and the amount of handicap accessibility desired.
Here are some of the questions we would ask when helping you determine what modifications will be necessary:

Does the entrance need a handicap ramp?

Will the entire home – kitchen, bathrooms, and hallways need to be wheelchair accessible or just certain living areas?

Is wheelchair accessibility important or are you just looking to improve the safety and comfort for your parents as they age?
Understanding exactly what the needs are will help us advise you on the remodel features that will best accomplish your goals.
Remodeling Bathrooms for Accessibility and Safety
Bathrooms are usually the areas that need the most modification for those experiencing limited mobility. There are several features that can be added or changed to make the bathroom in your home safer and easier to navigate. Here are some the common components our customers choose from as they are aging or experiencing other mobility issues:
Grab Bars

– One of the most important items for improving bathroom safety is the installation of grab bars. Grab bars properly positioned by the toilet, the tub, and in the shower help prevent falls. They also provide a steady grip for getting up from a seated position.

Roll-in Shower– Easy access to a shower is important for many. A roll-in shower isn't just for wheel chairs; it is also a great advantage for those using a walker. Having a seat in a shower that allows one to shower sitting down and still access the controls is another common request.
Walk-in Tub– The invention of a walk-in tub has added extra comfort to many. The walk-in tub eliminates the need to step over the tub rim to get in and out of the tub. They also allow you to sit on a seat in the tub instead of having lower yourself down to the floor and pull yourself up again. They are a popular feature in many of our increased accessibility bathroom remodels.
Wider Doorway – Walkers and wheelchairs require wider doorways for easier navigation. This is almost always needed to make a bathroom fully accessible.
Vanity Changes– Standard vanities can provide accessibility barriers. We can customize your vanity or sink area to make it easy to accommodate current and future needs.
Whether it is a full house remodel, safety improvements for the bathroom, or installation of a walk-in tub, Clear Choice Construction will provide personalized care in helping your parents age in place.
Don't know if your parents' home can be made more livable? We're great problem solvers. Let us show you how to create aging in place home plans that can work for your situation. Give us a call.
We Build It Right